Fine Arts Association of Arizona
A 501 (c) (3) Certified Non Profit Organization. Estd. 1983
Celebrating over 25 years of Indian Fine Arts in Arizona
Carnatic Instrumental Concert - Prasant Radhakrishnan & Party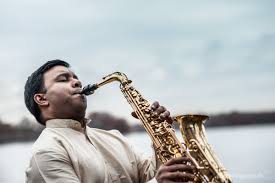 FAAA is delighted to present Carnatic Instrumental Concert by Prasant Radhakrishnan. Prasant Radhakrishnan is a saxophonist, composer and educator steeped in South Indian classical Carnatic music and jazz. Prasant's sound conveys a deep feeling of peace, joy and freedom.
Artist
Saxophone: Prasant Radhakrishnan
Violin: Arun Ramamurthi
Double Mridangam: Dr. Subrahmanyam Sudhakar & Sharatchandra Bhargav
Date
October 1st, 2017 (Sunday)
Time
4:00pm - 7:00pm
Venue
101, Murdock Hall, ASU
The admission to the concert is FREE for FAAA MEMBERS. Non-members can buy tickets here -
Copyright © 2016 Fine Arts Association of Arizona. All rights reserved.