Fine Arts Association of Arizona
A 501 (c) (3) Certified Non Profit Organization. Estd. 1983
Celebrating over 25 years of Indian Fine Arts in Arizona
2018 Carnatic Epic Choir
First Time in the Valley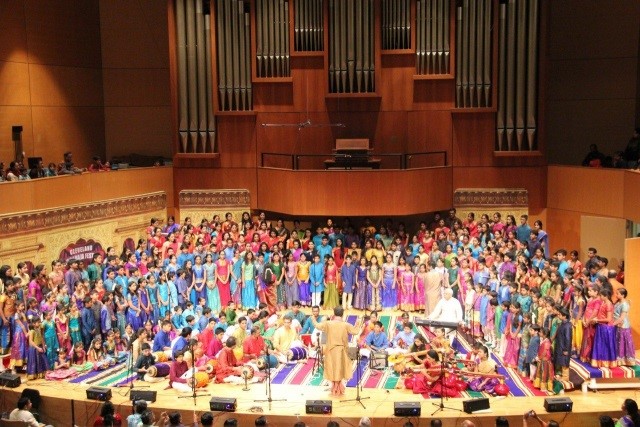 Fine Arts Association of Arizona is excited to put together the Carnatic Epic Choir comprised of talented adults, children and students from the valley. This ensemble will be presented by FAAA as a full-fledged concert on April 8th, 2018.
FAAA would like to invite musicians from the valley to audition for the ensemble. The ensemble will comprise of a Carnatic Orchestra. Please register here (see registration details below), if you have not yet done so.
The training sessions will be spear-headed by Sangeetha Acharya Rathnakara Guru. Neyveli Sathanagopalan and a designated coach from his school. The initial training shall be provided via the internet and intense training shall be provided in-person during the last week prior to the event.
The participant shall pay a training and administration fee of $300 prior to the deadline date of Jan, 14th, 2018. Additional participants from the same family will have to pay $250 each. Please note that the participation fees paid is non-refundable.
Expected Competency
There is no age limit to participate in the ensemble. It is open to all.
Participants in Carnatic orchestra shall have learnt a minimum of 2 Varnams (either Vocal or Musical Instruments).
Expected Dates
Deadline for paying the participation fees - Friday, January 14th, 2018.
Training shall commence from mid January, 2018 onward. Online training schedule shall be published soon.
In-person training will be conducted 1 week prior to the program.
Performance/Event Date – Sunday, April 8th, 2018.
To be considered for the Epic Choir, if you haven't already submitted your application, please complete and submit this form.
Copyright © 2016 Fine Arts Association of Arizona. All rights reserved.