Fine Arts Association of Arizona
A 501 (c) (3) Certified Non Profit Organization. Estd. 1983
Celebrating over 25 years of Indian Fine Arts in Arizona
2018 Carnatic Epic Choir
Dear Patrons,
Building over the success of Carnatic Philharmonic Orchestra in 2017, FAAA is once again poised to present another interesting learning experience in the Spring of 2018 called Carnatic Epic Choir.
Carnatic Epic Choir (CEC) is a brain child of musical stalwart Sangeetha Acharya Rathnakara Guru. Neyveli Sathanagopalan. Sri. Santhanagopalan, an erudite musical scholar, outstanding performer and a committed teacher with very few equals, needs no introduction to rasikas. Featured in Clevaland Thyagaraja Aradhana with over 300 participants from all over the USA, CEC has received very commendable reviews from elite viewers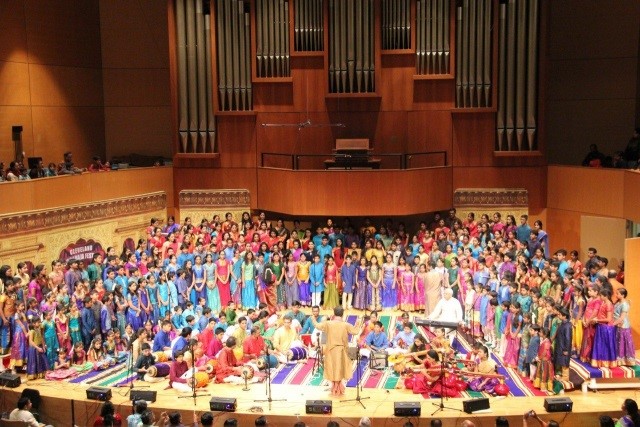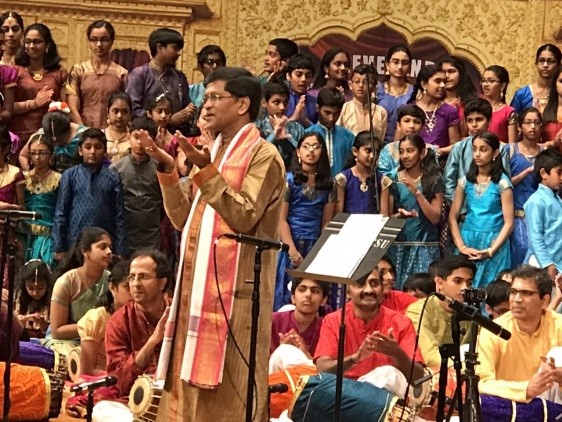 CEC is crafted to offer a unique aura of learning experience and shall be spread over an entire quarter spent in learning. At the end of training program, a participant is expected to learn several nuances in Carnatic classical music ranging from,
- Treasures from Indian literatures in over a dozen different ragas, compiled and composed by Sri.Santhanagopalan himself specially for this occasion
- Nottu swarams with intricate laya patterns embedded in seemingly easy compositions
- Jathi Maalas
- Compositions that involve Tonic Shift (griha bedham)
- Nama Sankeerthanams
- Symphony in Carnatic music
Please find the e-presentation of the CEC presented in Cleveland Thyagaraja Aradhana 2017 through this link
Fine Arts Association of Arizona is very glad to bringforth this great learning and presenting opportunity to musical talents of all ages. We sincerely thank you for all your past support and look forward once again to your continued support in the spirit of promoting classical arts.
Copyright © 2016 Fine Arts Association of Arizona. All rights reserved.